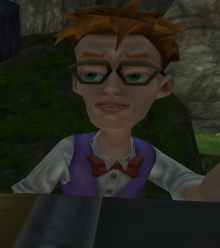 Hubert Leech is a member of Bittenbinder's Expedition Crew that becomes stranded after the plane is destroyed.
He previously worked with Kevin McCallister.
He gives Harry several items throughout the game, such pages from the Heroic Handbook, an inflatable raft.
Ad blocker interference detected!
Wikia is a free-to-use site that makes money from advertising. We have a modified experience for viewers using ad blockers

Wikia is not accessible if you've made further modifications. Remove the custom ad blocker rule(s) and the page will load as expected.